These oil lamps are real beauties. Their large 3/4" wick gives optimum alternative lighting. The Classic 17" is perfectly suitable for dining rooms, living rooms, kitchens, mantles and bedrooms because it has the power to light a standard size room, enabling you to go about your normal routine of working, reading, or just holding a conversation with friends and family. Uses almost any lamp fuel including kerosene, citronella, paraffin etc. These are very charming, suitable for any decor. Our best buy (& most light) for your money.
FREE Gift Offer: Buy any lamp, get the second one free. For example, if you buy a Classic 17" lantern you get a second Classic 17" free. Buy a Wall-table lamps, get a second wall-table lamp free. No limit per customer. Order now while supplies last.

Seventeen Inch (17")

Price: $29.00
(total height with glass)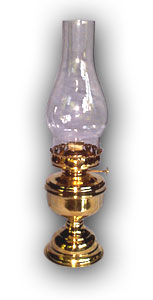 Real Brass!